Peoria City County Health Department
2116 North Sheridan Road
Peoria, IL - 61604

Peoria City County Health Department
The Peoria City/County Health Department is open Monday through Friday from 8:00 A.M. – 4:30 P.M. except holidays. Some clinics have extended hours. Call individual programs for appointment or times.

The goal of public health is to protect and promote health and prevent disease, illness and injury. Public health interventions range from preventing diseases to promoting healthy lifestyles and from providing sanitary conditions to ensuring safe food and water. Because of public health, the foods we eat are safer; the water we drink is free from contamination, more babies live beyond their 1st birthday and children are healthier due to childhood immunization programs.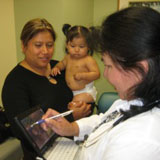 Children's Health Centers generally provide health care to children and young people up to the age of twenty one. Children's health care services include: acute care, emergency care, and well-child care services. Immunization services and histories are maintained as children are properly vaccinated.