West Palm Beach Health Center - Palm Beach County Health Department
1150 45th Street
West Palm Beach, FL - 33407

West Palm Beach Health Center - Palm Beach County Health Department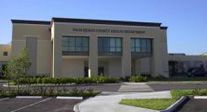 The West Palm Beach Health Center is a Palm Beach County Health Department Federally Qualified Comprehensive Health Center.

Hours: Monday - Friday 7:00 a.m. – 5:00 p.m. 4th Saturday of each Month 8:00 a.m. to 12:00 p.m.

Adult Medical Services
Medical Evaluation
Physicals
Laboratory Testing
EKG's
Adult Immunizations
Hearing & Vision Screening
STD (Sexually Transmitted Diseases)
Tuberculosis Testing
Referrals For Specialty Care

Maternity (Prenatal & Postnatal Services)
Prenatal Risk Assessments
Maternity Check-ups with Delivery Referral to Local Hospital
Maternity Education & Counseling
Laboratory Testing
Pre-natal Health Insurance
Assistance (SOBRA / PEPW)

Family Planning/Sexual Health
Post Partum Check-ups
Pregnancy Testing
Variety of Birth Control Methods
Mammogram Referral
HIV/STD Prevention
Teen Clinic

Gynecology
GYN Evaluation (for fibroids, ovarian cysts, etc.)
Pap Tests
Mammogram Referral
Colposcopy
Infertility Evaluation
HIV/STD Screening
Post Menopausal Evaluation & Treatment
Laboratory Testing
LEEP Procedure

Nutrition Services
Medical Nutrition Therapy
Diabetes Education
Weight Loss Support Group
Food Pantry
BIA (Bioelectrical Impedance Analysis) Testing
WIC (Women, Infants and Children)

Dental Services - (561) 514-5310
Hours: Monday – Friday 8:00 AM – 5:00 PM

Emergency Dental Care, including extractions
Basic Restorative Dental Care, (Fillings)
Preventive Dental Care (Cleanings, Fluoride Treatments, Oral Hygiene, Dental Sealants)
Removable Prosthetics (false teeth)

Infectious Disease Services
Specialty Primary Medical Care
Case Management
Confidential Counseling &Testing for HIV Antibodies
Mental Health
Substance Abuse Coordinated Care
Nutrition Assessment & Counseling
AIDS Drug Assistance Program (ADAP)
Ryan White Referral Services

Health Education
Diabetes Classes
Living With High Blood Pressure
Prenatal Classes
Smoking Cessation
Parenting Classes
Healthy Life Style
Breastfeeding Education and Support


Financial Counseling (Health Insurance)
Legal Aid Assistance (Tuesdays 1:30p.m. - 4:30 p.m.)

Health Care District Pharmacy - (561) 514-5390

WIC Services - (Women, Infants and Children)
561-357-6007 or 1-877-693-6703 Appointments and Information

Hours: Monday - Friday 7:30 a.m. – 5:00 p.m.
(Except 1st Thursday Afternoon)
4th Saturday 9:00 a.m. – 1:00 p.m.

Special Supplemental Nutrition Program for pregnant, breastfeeding, postpartum women, infants and children up to age 5. Participants must meet WIC eligibility requirements.
Nutrition Assessment
Nutrition Counseling and Education
Nutrition Education Groups
Breastfeeding Information, Breast Pump Loan Program, Counseling and Technical Support
Check Issuance for Specific Healthy Foods
Referrals to Healthcare, Immunizations and Community Services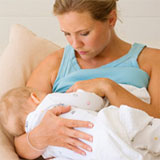 Breastfeeding is a health choice that is now an important consideration for women with children need to research. The Sergeon General's office along with the Academy of Pediatrics recommends that babies be fed with only human milk for the first six months of their lives. From six months to a year, breastfeeding should be supplemented with the introduction of solid foods.

Human breast milk protects both the Mother and child from disease. Studies support that women who do not breastfeed are more likely to develop ovarian and breast cancer along with obesity, diabetes, and cardiovascular disease.
Women's Health services generally provide comprehensive well woman healthcare services along with pregnancy services for women who are low income. Many services for women's health include: pregnancy care, pregnancy tests, case management and referrals, annual women's exams, screenings, family planning services.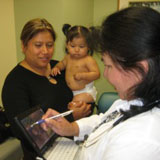 Children's Health Centers generally provide health care to children and young people up to the age of twenty one. Children's health care services include: acute care, emergency care, and well-child care services. Immunization services and histories are maintained as children are properly vaccinated.